Excelvan® Fashion Stylish quartz wrist watch for men Waterproof Curren Chronometer Shocks and Vibration Watch w/ Black Dial & Date Display (Silver)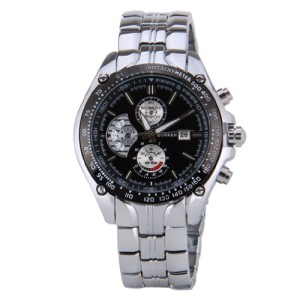 Description:
Shocks and Vibration:Light activities will not affect your watch,but be careful not to drop your watch or hit it against hard surfaces,as this may cause damage.
Magnetism:The watch will be adversely affected by strong magnetism.Keep the watch away from close contact with magnetic objects.(in the case of a quartz watch,normal accuracy will return if the watch is moved away from the magnetic field.)
Care of case and band:
To prevent possible rusting of the case and band by dust,moisture and perspiration,wipe them periodically with a soft dry cloth.
If there is a sticker or protect slice on the case back,please tear it before use the watch.Otherwise the sweat will permeate into the slice and cause the case back to get rusty.
Main Feature:
Amazing looking watch
Stylish quartz wrist watch for men
Fashionable, very charming for all occasions.
Special dial design draws much attention from buyers.
Pull out the central crown of three at side to adjust time
Clasp Type: Fold-Over-Clasp with fixed clip
Normal water resistant, not for showering or swimming
Battery loaded
Band Material: Stainless steel
Case Material: Stainless steel
Specification:
Weight: 0.14 kg
Size: 23.6*4.6*1.1 cm
Package Content:
1 x Wrist Watch
1 x gift box
Amazing looking watch Stylish quartz wrist watch for men