Grain Free Dog Training Treats – 800 Tasty Treat Pack – 80% Fresh Poultry Meat, 20% Potatoes & Gravy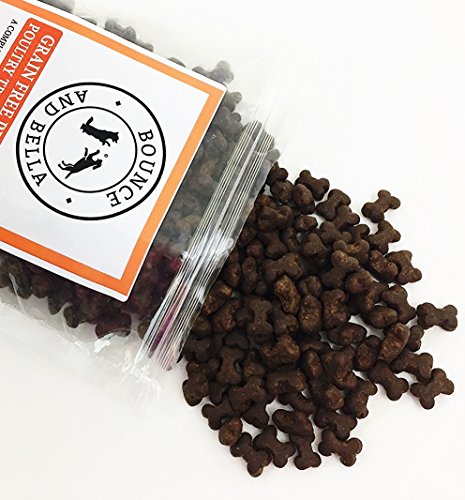 800 Healthy & Delicious Training Treats – No more junk filled treats!
The problem with other training treats is unhealthy grains and sugars used to cheaply bulk them out (most only contain 14-16% meat). Our training treats solve that problem! Why?
• HEALTHY! Made in the UK from ONLY fresh poultry (80%) and potatoes & chicken gravy (20%) – That's it! Nothing else! No additives, no preservatives, no flavourings, no sugars and no grain (or gluten)! This means you can rest easy knowing you're providing the best treats you can buy for your dog. Never let your dog suffer from junk-filled treats again!
• FAST RESULTS! Because we use quality fresh poultry including chicken, duck and turkey in our treats they are the tastiest and healthiest treats around. This is wonderful as your dog (large or small) will massively enjoy their training and really look forward to it – as will you!
• STRONG! Because our treats come in a strong, resealable bag, you can stop treats going stale and keep them fresh and tasty. This is great because a tasty treat means a happy and more easily trained dog.
You risk absolutely nothing. Our premium grain free treats are backed by a 100% unconditional guarantee – if your dog doesn't like them we'll refund with no hassle.
There is limited supply of this best selling product. Get yours today from Amazon!
TOP QUALITY! If you've been looking for premium dog treats that won't break the bank then your search is over! That's because the only ingredients in our training treats are freshly prepared chicken, duck and turkey meat (80%) and potatoes & chicken gravy (20%) which means a healthier happier doggy or puppy, guaranteed!
---
Get The Best Deal
£8.99
£7.99
---