Harry Potter Sweets Hamper | Inspired By The Legendary Movies | Letterbox Friendly Glossy Red Box | Bertie Bott's Beans, Chocolate Frog & Slugs | Christmas Present | Hamper exclusive to CANDYPLANET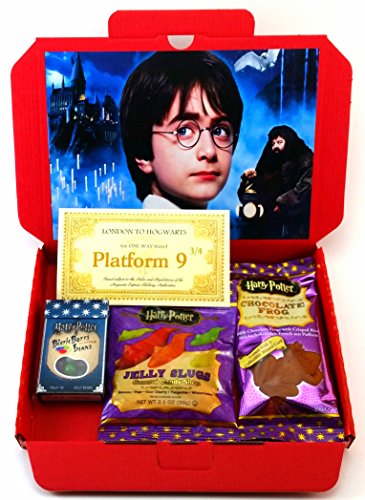 RARE AND UNIQUE PRODUCTS IMPORTED FROM THE USA.
IF YOU HAVE A HARRY POTTER FAN IN THE FAMILY THEN THEY WILL LOVE THIS GIFT AS IT IS TRULY UNIQUE.
CHRISTMAS IS NOT FAR WAY! IF YOU ARE LOOKING FOR A UNIQUE CHRISTMAS GIFT FOR SOMEONE THEN LOOK NO FURTHER!
BUY FROM US AND SAVE YOURSELF THE HASSLE OF A TRIP TO YOUR LOCAL TOWN CENTRE BEFORE CHRISTMAS DESPERATELY SEARCHING FOR NUMEROUS PRESENTS! THIS NORMALLY RESULTS IN BUYING A GENERIC GIFT (RATHER THAN A PRESENT) FROM A HIGH STREET RETAILER WHICH SHOWS LITTLE FORESIGHT OR CARE!
THERE ARE AMERICAN CANDY SHOPS OUT THERE IN SOME TOWN CENTRES BUT THEIR PRICES ARE NORMALLY EXTORTIONATE. PLEASE BEAR IN MIND THAT ALONG WITH THE PRODUCTS IN THIS AUCTION WE ALSO INCLUDE SHIPPING TO YOUR DOOR!
BOX MEASURES 23CM X 17CM (PLEASE CONSULT A MEASURING DEVICE IF YOU ARE UNSURE OF SIZE)
Contents:
1 x Chocolate frog 15g (THIS IS ONLY 15G SO VERY SMALL)
1x Bertie Botts Beans 34g (AGAIN 34G SO QUITE SMALL)
1 x Harry Potter Jelly Slugs 59g
1 x Harry Potter Train Ticket printed on a good quality paper (not card)
The sweets are all officially licensed products produced in the USA and not available in the UK.
BEST BEFORE – MAY 2018✔ WE HAVE LOTS OF OTHER UNIQUE AMERICAN CANDY HAMPERS AVAILABLE IN OUR AMAZON STORE. Please click on the blue candyplanet under the title or search candyplanet in the amazon search bar.
---
Get The Best Deal
£14.99
£14.99
---