Innoo Tech Multi Colour 5M 50 LED String Fairy Lights Solar Powered for Garden, Patio, Porch, Outdoor, Christmas, Party, Wedding(Blossom Shape)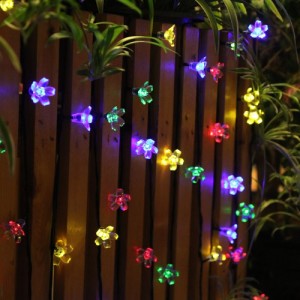 Features:
1.Ideal for decorating your gardens, patio, lawn, porch, gate, yard, etc.
2.By converting solar energy into electricity, the solar panel charges the
battery during the day and the built-in sensor turns on the light automatically
at dusk.
3.The volume of solar energy converted and stored everyday decides lighting
performance. It varies with the intensity of sunlight, user's geography
locations, weather conditions and shift of seasons.
4.Easy to install, put the stake onto the tube at the back, find a place for the
lights with clear and full exposure to the sun. Insert the stake into the
ground. If the ground is too hard, do not twist or hammer it with force. Try to
soften the ground with water and then insert it into the ground.
5.Expose the solar panel to direct sunshine. Make sure the solar panel faces
right to the noon sun.
6.This string light is totally waterproof. But to maintain a long using life,
please do not use it in the water.
Specifications:
1. Color: Multi color
2. Solar panel type: 75*65mm Amorphous silicon
3. Battery: built-in 600mAH NI-MH battery
4. Blossom lamp beads quantity: 50
5. Length: 5M/16FT
6. Charging time: 6-8 hours in the sun
7. Working time: 8-10 hours,total working time more than 10,000 hours
8. The first blossom bead to the solar panel:approx 280cm.
9. Distance between two blossom beads: 10cm
10.Function mode: twinkling lighting and static lighting.
Noted:
1. Make sure the switch is turned to "ON", if not, the battery will not be
charged.
2. Make sure the battery if fully or partially charged: Check the location and
position of the light so the solar panel receives good sunlight.
Package Includes:
1 x Innoo Tech 5M 50 Led Solar Blossom Fairy Light Multi color with a solar panel
brGreat for decorating your gardens, patio, lawn, yard, porch or gate by hanging the string light among the shrubs, trees and other areas.