Playtech Logic Electronic Puppy Robot Dog Light Up Girls Boys Toys with Sound for Kids, Pet Nodding Barking and Walking Dog Toy with Bump and Go Function, Blue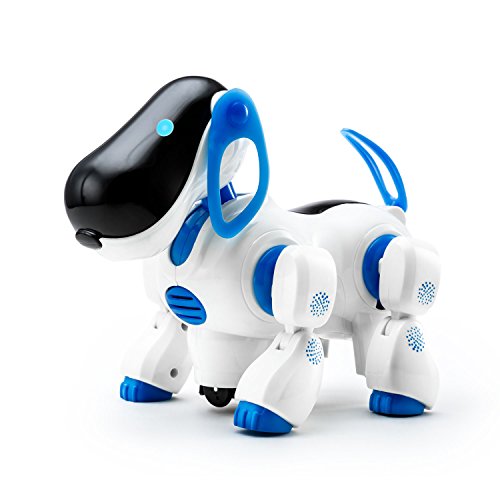 This great little robot dog toy will make up for not letting them have a real dog in a flash. Watch their eyes light up when you switch on their very own pink or blue i-robot dog.
Perfect For Little Hands, this nodding dog toy will be loved straight out of the box, will be a playtime favourite every day and may even get your little girls and boys dancing along with their puppy dog toys.
It's so easy to use. Simply insert 3 x AA batteries and switch it on. They're built to be safe for kids so you'll need a small Philips screwdriver. The puppy will captivate your kids immediately with its running, walking, barking and musical antics. Also great as a baby and toddler toy – just fold up the legs and let it Bump and Go, giving your little ones endless hours of fun.
You'll certainly Earn Yourself The Title Of Best Mum, Dad, Grandma, Granddad, Uncle or Aunty – with this much loved robot for kids. Kids just love toy dogs that walk and bark. Your kids will follow their barking and walking pet robot dog wherever he (or she) goes.
What a great way to Make Little Hearts Smile – give them a toy dog that will withstand playtime and see them captivated by this little robot dog as its feet and eyes light up, while it wags its tail and nods its head dancing to the music. Our fun electronic dogs make a great addition to any Sensory Room and are customer recommended for autistic children.
Your little ones will love it and you can feel secure with Certified Safety and Exceptional Customer Service. We pride ourselves on looking after your little ones as our own, so all of our toys meet strict European Safety Standards. Our Playtech Logic walking barking dog toy is a hit "worth every penny".
Get them a pet dog that will still be loved months later.BIG AND SMALL KIDS WILL LOVE THIS LIGHT UP ROBOT DOG and you'll be the best Mum, Dad, Granddad, Grandma, Uncle or Aunt ever. As baby and toddler toys go, its perfect too – just fold up the legs and let it Bump and Go. Recommended by mums and enjoyed by kids ages 2-7
---
Get The Best Deal
£18.97
£19.97
---