Box Of Favours – The Ultimate New Gift For Someone Special – Christmas / Birthday / Valentines / Wedding / Mothers Day / Fathers Day / Personalised Present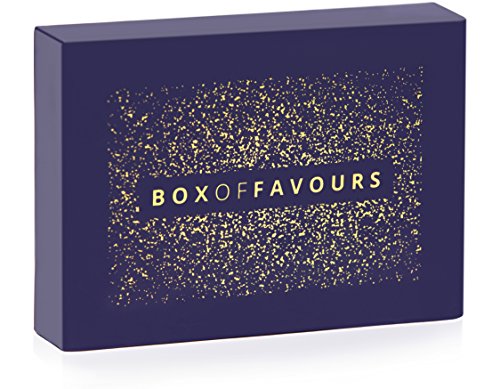 "IT'S NOT HOW MUCH WE GIVE BUT HOW MUCH LOVE WE PUT INTO GIVING" – MOTHER TERESA
A Box of Favours is more than just a gift. It's a gesture of love and friendship, a promise to spend time with someone special to show them how much you care about them.
Each box has been beautifully designed with gold foil stamping on the top and bottom. When you open the box the first thing you will find is an envelope with a contract inside. This is to be signed by the gifter and is a promise to fulfil the favours within.
Under the contract you will find 15 favour cards with gold stamped borders, held in place by black velvet covered foam. 10 of these cards contain set favours and 5 are left blank for your imagination.
This unique and personal gift is the perfect surprise for anyone that you love.
Buy a box of favours today and show someone how much you care about them!
Every Box Of Favours purchased plants a tree!
BOX OF FAVOURS – MORE THAN A GIFT – Show someone how much you care about them by treating them to special favours. This beautifully designed box filled with cards is the perfect gift for Birthdays, Christmas, Valentine's, Mothers Day, Fathers Day, Anniversaries, for Him or for Her – ALSO for every box sold, ONE TREE WILL BE PLANTED!
---
Get The Best Deal
£12.99
£14.99
---